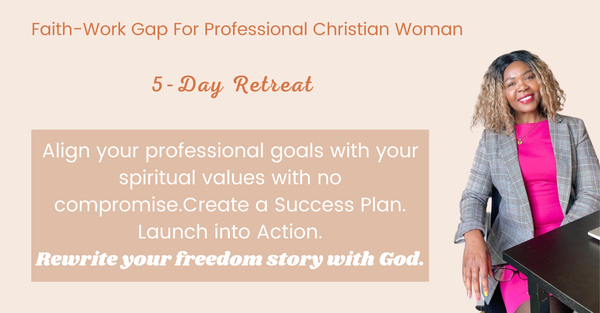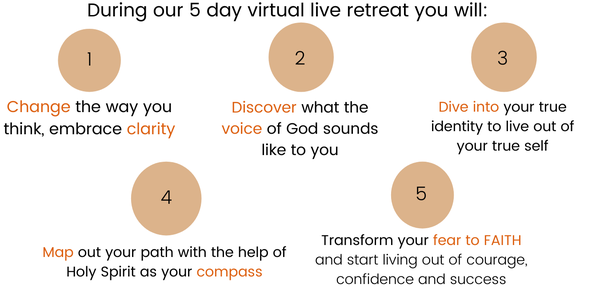 October 18-22 (Mon – Fri), 6-7pm BST,1-2pm EST Daily
Who is this for?
Professional/career Christian women desiring to align their professional and personal goals with their Spiritual values so the can find fulfilment and freedom in who they are and what they do and want to;
-Want to ditch being de-motivated which can make your work feel less fulfilling and hurt your happiness, but it's also a hindrance to your success.
-to shift from being discouraged today because no one sees or appreciates what you do at work
-Get unstuck from toiling away at a job where your efforts go unnoticed and unappreciated by placing value on yourself and what really makes you happy whether you leave or stay
-Heal from feeling unappreciated at work leading to increased stress and anxiety
-Become courageous and confident to talk to your boss or co-workers who are taking credit for your work, and you feel like nobody notices you
-Step into your identity and you are now calling time up on being passed over for promotions and do not get paid fairly
-Speak and represent yourself best so as not to get interrupted in meetings and feel uninspired
-Discover your self-worth to stop feeling undervalued at work when your work goes unrecognized and your ideas are neglected, which can be demoralizing, defeating, and frustrating.
Testimonials
Working with Virginia has been wonderful. As a coach she is patient, loving and gives just the right amount of push to help move forward. I came to Virginia with an issue around clarity and calling. Within a short period of time, she helped me see what God had in store for me and I gained the clarity I needed to step out in confidence. Thank you for a wonderful coaching experience and anyone thinking about whether or not they should work with Virginia should definitely do so and expect growth in their lives.
Fiona-Christian Life Coach,UK
Virginia very kindly coached me plus she gave me a bonus ministry session on hearing the voice of God, me and Jesus talking, all of which I thoroughly enjoyed and benefited from. She was efficient and we made an agreement from the beginning of our alliance. She kept me accountable for my goals, which I did get breakthroughs on and she also encouraged me towards action steps for my current business and the new coaching online global business. She gave me wise advice when needed. She nudged me in the right direction to let go of certain things. Is a great listener. It has been a great experience I feel blessed to have partnered for these last few months and appreciated extra tools she sent by email which were very useful for setting goals and would definitely recommend her to anyone needing a Christian Life Coach for breakthrough. Thank you Virginia for this precious time at the beginning of my journey as a coach may God bless you richly.
Cheryl Millen-Beaty Saloon Onwer,Malta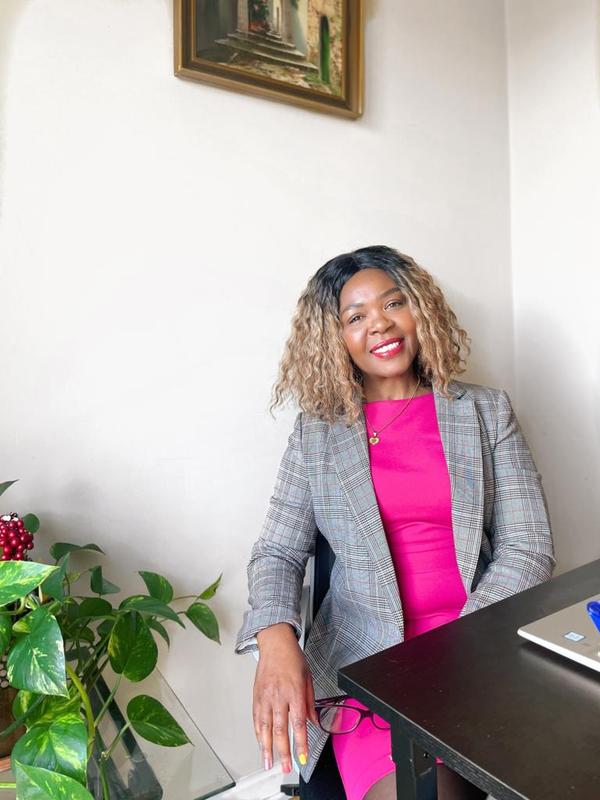 About Me :I have transformed lives of women wanting to break out of empty religious existence to purposeful living.I have helped clients with low self esteem, no self-worth and "I am not good enough" to be empowered women of purpose in their careers enabling them to scale their dreams and dominate in their sphere of influence be it in their home, at work or mission field. Most of my clients moved from having serious limiting beliefs, self sabotaging, fearful women to strong, fearless and successful Kingdom Professional career champions.
I have 2 children in their twenties, strong relationship with my 5 siblings, a community of mothers and fathers in my church family who have encouraged and helped shape ,encourage and champion me on my journey to be and do better at everything I go after.
It is about the journey more than it is about the destination. Walking in relationship, love and compassion are at the core of how I love to minister. My pastoral heart is to disciple through encouragement, relationship,community, prophecy, and healing ministry to see sons saved, healed, delivered and free to live in alignment with your Faith values into real freedom and calling.There is simply no stopping and hindering the healed Bride of Christ. If not us, then who?. I encountered the healing power of Jesus through my own powerful healing when I was eight from an incurable skin eating disease and that set me on a journey to know Him, my Healer.